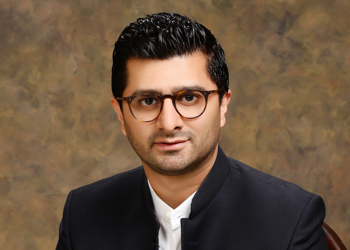 Mr. Ahmad is the Managing Director of Recorder Television Network (Private) Limited. Ahmad completed his primary and secondary school education in Karachi, Pakistan. After high school he received his Bachelor's degree from the Wharton School at the University of Pennsylvania. He graduated with High Honors in 2001 with a concentration in Finance and a Minor in Economics.
Ahmad worked as an Investment Banking analyst at Donaldson Lufkin and Jenrette and then at Credit Suisse First Boston in New York, specializing in advising Media & Telecom companies on Mergers & Acquisitions as well as Equity and Debt offerings.
In 2004 he moved back to Pakistan to join his family's media business and expanded it from print into the electronic space. The company broadcasts Aaj News and Aaj Entertainment which are among Pakistan's most watched TV channels. He also runs Apex Printry which is the county's largest security printing business. He is also a Director of Emmay Zed Publications which publishes Pakistan's only English financial daily, Business Recorder.
Ahmad is an active member of YPO which a global Organization of CEOs across the world. He is currently the Regional Chairman of YPO Middle East and North Africa. He also serves on the Board of Pakistan Centre for Philanthropy.