Can maps help TPL Trakker navigate towards profitability?
07/07/2021
Posted by:

TPL-Trakker

Category:

News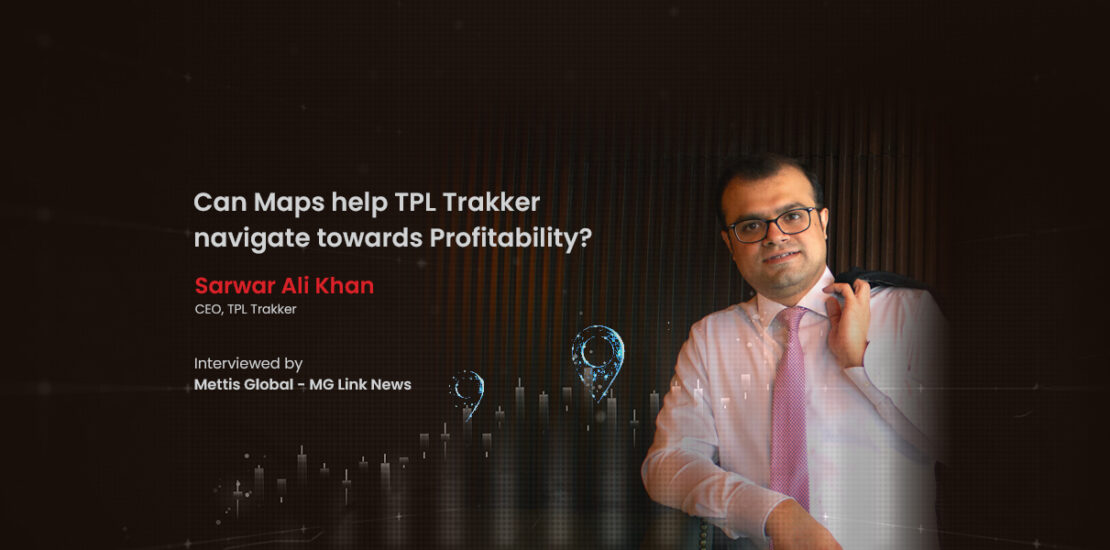 Sarwar Ali Khan, CEO, TPL Trakker interviewed by Mettis Global
July 2, 2021 by News Desk
All of us have heard the big claims regarding putting Pakistan on a digitization journey. Yet, one look at the constituents of the Pakistan Stock Exchange's technology and communication sector reveals the state of the sector: around half of the scrips are more pump and dump items than anything while some do more infrastructure contracting than any product development of note.
Even the more sustainable players, despite their consistent price and financial performance, don't accurately reflect the changing landscape of the tech industry as the focus is heavily towards projects and services.
If anything, the private sector has produced more big names than the listed entities, whose number has largely stayed constant for quite some time. Except for TPL Trakker, that is. A subsidiary of TPL Corp, it has been in the tracking business for two decades now and became the first company in FY21 to do an initial public offering. Just around that time, it was also launching TPL Maps, a location-based service for navigation available through APIs and a mobile app. The company also wants to make inroads in the hardware space as it introduced its Audio Video Navigation systems.
TPLT is betting on the underlying shifts in the technology industry and wants to capture the growing demand for navigation tools, a phenomenon only helped by the increased activity in e-commerce. To better understand how the company is viewing the market, for both its traditional and new product lines, Mettis Global interviewed TPL Trakker's CEO, Sarwar Ali Khan. He joined it in 2016 before which he served various stints at leading organisations such as Samsung, National Bank of Pakistan and Accenture.
The transcripts below have been edited for brevity.
How would you explain the company's lackluster financial performance last year and what measures are being taken to change the situation?
The profitability was dented in 2020 mainly on the back of lower revenues which took a serious hit primarily due to the almost three months of lockdown. Meanwhile, a lot of our costs were fixed, such as vendor payments for satellites, that continued to flow out despite closures, further impacting the bottom line. Recently we sold off our properties in Lahore and Karachi and are using the proceeds to reduce the debt, which will bring down financial charges. Beyond that too, a number of measures have been taken to streamline other costs such as moving to a single building in Korangi and away from Centrepoint which was more expensive.
However, that bottom line trend is changing now as you can see from the third quarter's results where we have returned to profitability again. The topline is also growing and we should see good growth numbers this fiscal year. In addition to this, maps is bringing in bigger numbers, something that didn't exist in the previous years.
Can you tell us about your different lines of business and their contribution to the revenue? What are the margins like?
Until recently, TPL Trakker basically operated across the traditional and container businesses where the former brought in around 70 per cent of the revenue. Then last year, TPL Maps was finally launched, something we started working on in 2016, and the demand we have seen has surpassed our expectations in terms of revenue. Over the next three to four years, we expect the combined tracking business to maybe come down to around 50% of the share with the shift being driven by an increase in the contribution of Maps. TPLT also recently entered the hardware space with the introduction of Audio Video Navigation Systems. This has also surpassed our revenue expectations this year.
Tracking in itself is also expected to see growth as the auto assemblers brace up to deliver the increased demand once the supply chain shortages ease up. So within the next few months, when more vehicles eventually hit the streets, our sales will go up too. On the container side, we currently track 10,000 containers around a month and feel there will be a direct impact on this line with the track and trace drive by the government to increase the level of documentation in the economy.
As for the margins, Maps is the most lucrative side with gross margins around 72% with container just behind at roughly 60%. The tracking operates in the range of 50-55% whereas the hardware is slightly lower at about 30%. However, we are just starting out and the rationale behind entering this space is more long-term as the auto sector is increasingly moving towards connected devices and this hardware is becoming the centrepiece of the entire driving experience. It may not happen in the next 5-6 years but we want to position ourselves to take advantage of that when the market matures in Pakistan.
Do you think Usage Based Insurance (UBI) has enough potential to be considered by the Pakistan based insurance companies in order to better manage their premiums?
UBI is a different concept from the other traditional insurance whose idea basically is to find good versus bad drivers. It has something for everyone i.e. insurance companies and customers (corporates). The connected car segment of UBI offers insurance users to manage the premiums they are paying by controlling their driving style and helps them minimize their costs.
The main challenge right now is to make insurance companies realise its value and how it works. For that, we are even offering the service for free just to make them understand and get familiarized with the concept. We have to change the industry mindset with respect to motor insurance and for this we need to take the big market players on board.
However, UBI will take at least 1-2 years to really set in place. We are already launching this product with TPL Insurance in the coming months. Due to Covid-19, it had been on the back burner for some time but now we are getting back to it. Though again, for this idea to take off, we need to take the other players, especially the big names, on board.
Similarly, TPL has also launched a product with the Takaful sector which no company in Pakistan is currently offering. Under this, we offer 100% cashback equivalent to the value of the vehicle upon failing to recover its vehicle in case it goes missing, regardless of what insurance the customer is already getting. The aim was to target those corporates and individuals who do not go for insurance policies for religious reasons. We have already received a positive response from banks as this particular product will cut their costs 40%-50% and boost the margins.
The company is going to introduce "My Trakker". Can you brief us about this product line and how will it help put TPLT on the track of profitability?
The concept of "My Trakker" is to provide a digital monitoring platform for users who already have trackers from other companies installed in their vehicles. What our portal does is it allows users to have real-time access to their monitoring through customizable dashboards for fleet management. 90% of the tracking companies get the same data through monitoring services. But what makes any player different is how they utilize it.
The platform is available on cloud and can pair up with any other hardware which basically opens up the market that had so far been limited to us due to geographical reasons. We are already receiving inquiries every month where the client asks for only software as they already have a third-party device installed and don't want to make another capital expenditure. So the demand already exists for this product and has the potential to improve our net margins in FY22.
How do you see the long term growth of tracking business considering that the auto sales have largely stayed flat over the decade or so. Can the new government relief for the sector help trigger a demand spike?
Since last year, we have seen not only a number of new auto players enter the market but also aggressively launch models. This increased competition should help fuel the vehicle sales and with them, the demand for tracking devices. With respect to the government's schemes, including the Roshan Apni Car and Apni Gari schemes, it's hard to put an exact number on the kind of impact it could unleash but we should see an increment of around 20-25% in auto sales in the coming year. Most of these cars get trackers installed so our sales should follow that trajectory as well.
Copyright Mettis Link News